---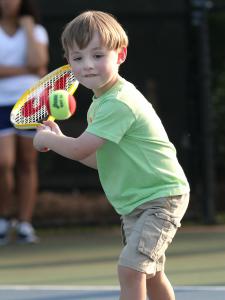 Cobb County Parks, Recreation and Cultural Affairs Department offers tennis programming that suits anyone who is interested in the game.

Cobb has 122 tennis courts located throughout the county. With 6 full service tennis centers and 13 additional satellite tennis facilities, there is sure to be a tennis court in your area. Programs are offered for the newest beginner to the highest level of play - Cobb's tennis program is ready to help you hit the tennis courts.
---
Tennis Centers

Cobb's Tennis Centers are open for public play with nominal court fees. The tennis centers are also the hub of our programming, with instruction, league and tournament play, and social round robins. For information on programs or for court reservations, contact the tennis center in your area.
---
Satellite Park Tennis Courts

Tennis courts located throughout the county available for free play. While there is limited programming at these parks, most of the court time is available for play on a first-come, first-served basis. Each park has 4 lighted tennis courts.

Big Shanty Park
Larry Bell Park
Sewell Park
Fullers Park
Sweat Mountain Park
Shaw Park
Skip Wells Park (formerly Bells Ferry Park)
Oregon Park
Wild Horse Creek Park
Rhyne Park
Wallace Park
Nickajack Park
Hurt Road Park

(Click on park name for map)
---
Fall Tennis Classes
Registration begins August 1
Classes begin the weeks of September 10 and October 29
Online registration available for tennis classes.
Classes meet 1 hour per week (1/2 hour for tots classes) for 6 weeks.
Cost: $72 ($108 for non-residents)
Tots Classes: $36 ($54 for non-residents)

Learn to play tennis! We offer tennis classes for entry level beginners. If you ever wanted to learn to play tennis, this is where you begin.
---
Looking for a Team?

Players looking to join an ALTA or USTA team can fill out a general information form (link below) to be placed on a contact list. Teams are formed every season.

Looking for a Team Form
---
Cobb's Award-Winning Tennis Program: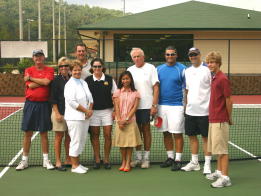 Charlie McCoy (Sweetwater Tennis Manager) named '2016 Tennis Director of the Year' by the GPTA.
Lost Mountain Tennis Center awarded 'Organization of the Year' for 2013 by USTA-Georgia
Harrison Tennis Center awarded 'Organization of the Year' for 2010 by USTA-Georgia.
Steve Lottinger, the facility manager at Harrison Tennis Center, received the '2009 Ace Award' by Special Pops Tennis.
Harrison Tennis Center named 'QuickStart Facility of the Year' for 2009 by USTA-Southern.
Lost Mountain Tennis Center named 'Tennis Club of the Month' for February 2009 by the Tennis Players Network.
Harrison Tennis Center winner of the 'QuickStart Award' for 2008 by the USTA Southern Section.
Harrison Tennis Center awarded 'Organization of the Year' for 2007 by USTA-Georgia.
Lost Mountain Tennis Center awarded 'Outstanding Tennis Facility for 2006' by the United States Tennis Association
Harrison Tennis Center awarded 'Outstanding Tennis Facility for 2004' by the United States Tennis Association
Lost Mountain Tennis Center awarded 'Organization of the Year' for 2004 by USTA-Georgia.
Harrison Tennis Center awarded 'USA Tennis Facility of the Year' for the USTA Southern Section in 2004
Harrison Tennis Center awarded 'Organization of the Year' for 2003 by the USTA-Georgia
Cobb County Parks, Recreation and Cultural Affairs awarded by USTA-Georgia the 'Parks and Recreation Department of the Year' for 2000
Cobb County Parks, Recreation and Cultural Affairs named as 'The Place to Play' for parks and recreation tennis by the Atlanta Journal-Constitution for 2000