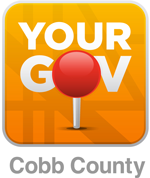 YourGOV, a smart phone and web-based work request tool provided by the Cobb County Department of Transportation (DOT), allows citizens to submit non-emergency service requests directly to the DOT work management system.
By accessing the YourGOV website or using the smart device app, citizens can photograph a problem and request that work be completed at a specified location.
YourGOV service requests relate to roadway issues such as potholes, traffic signals, debris, signs, and sidewalks. Citizens are also able to track the progress of their requests and receive automatic updates throughout the lifecycle of their requests.
To make a request, search for "YourGOV" in your app store or visit yourgov.cartegraph.com. If you were a YourGOV user prior to April 12, 2016, please register for a new account with your previously used email address to use the upgraded app and access your work request history. After signing up for an account, follow the steps below to report an issue.
YourGOV is for reporting NON-EMERGENCY issues only. If immediate police or fire department response is needed, please call 911. Utilize YourGOV when it safe to do so; do not text and drive.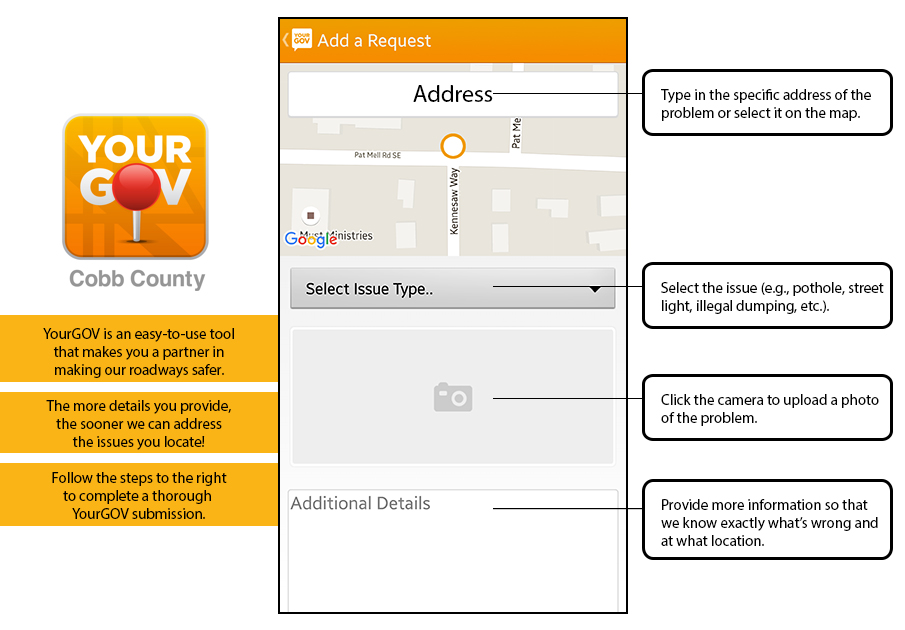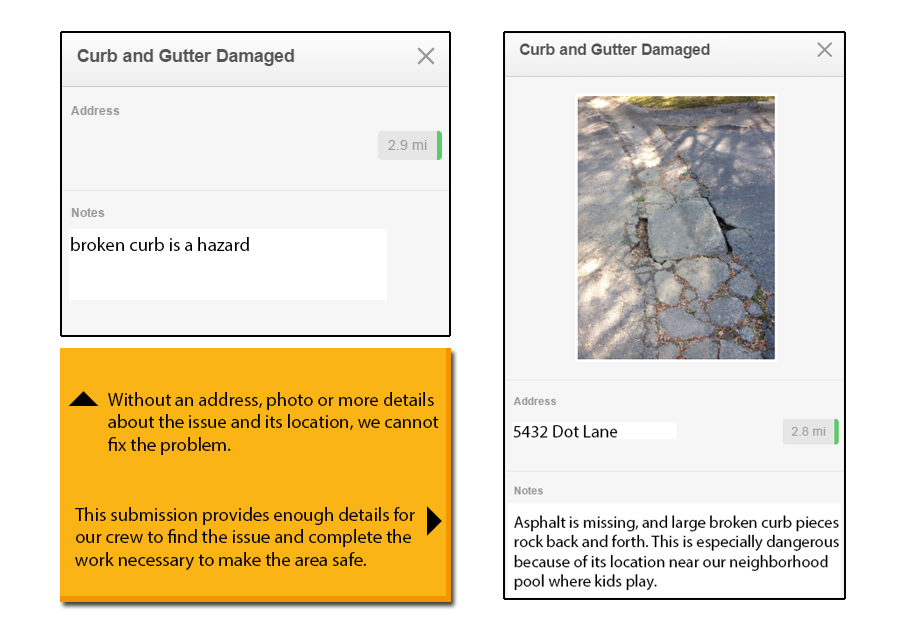 How does YourGOV work on the Web?
When a Citizen follows the link to YourGOV, first time users must create a user profile; returning users must log in using a valid email address and password. Once successfully registered and logged in, citizens select Add Request to enter location and details related to the requested work. Once submitted, the service request is reviewed by DOT staff and the appropriate action is taken. Citizens will receive status update emails on their YourGOV requests from NoReply@CobbCounty.org. Citizens may want to add this email to their safe senders list or contacts.
How do I track my submitted service request?
Citizens who create a user profile can view a map featuring their previously submitted work requests. Dots on the map represent the location of work requests. The request currently being viewed is surrounded by a halo. The citizen tracks submitted requests by logging in to see what activity has been assigned to the service request, when the request was closed, and other details regarding the request.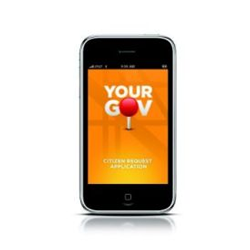 Can I submit a service request from my smart device?
YourGOV supports Apple iOS and Android. Support for Blackberries is in development. Using smart devices, citizens can initiate and submit work requests. Citizens may use their devices' location services to accurately report an address. Service requests are received into the DOT's work management system and reviewed by staff. Then the appropriate action is taken. To download YourGOV, please search for it in the App Store or on Google Play.
What types of service requests can I submit?
Currently the citizen access tool accepts requests for various issues related to the roadways, right-of-ways, sidewalks and storm drains.
What is the history of YourGOV?
Developed by Cartegraph, YourGOV is a citizen-facing technology connecting community and government. Cartegraph, a Cobb County vendor for over 10 years, provides asset and work management solutions. With over 1,000 clients in North America, the YourGOV application is widely available. For more information on Cartegraph, please visit their website.
YourGOV questions?
Having trouble with YourGOV? Please contact the YourGOV administrators for Cobb County at 770-528-1600 or email us at cobbdot@cobbcounty.org.