Ultimate Frisbee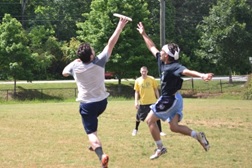 Are you looking for a new challenge or just an excuse to hang out with friends for a good time? Come along and play in our Adult Coed Ultimate Frisbee League!

What is Ultimate Frisbee?
Physically, and in terms of teamwork, the game is a lot like Football, Soccer or Basketball. One thing that makes its truly unique is that you're throwing a Frisbee instead of kicking, hitting or throwing a ball. The object is to keep passing forward to teammates and ultimately get it to a player in the end zone.

How do I play?
Ultimate is easy to learn. It's a non-contact team sport, where men and women play equally, with no referees, and all you need is a Frisbee! Teams play with seven players on a large rectangular field. At either end are the end zones. In our case we will use a field at Terrell Mill Park. The rules you need to know in order to start are easy to pick up and most teams cultivate a 'grown from home' attitude, meaning they're willing to absorb you into the team and let team members teach you as you play.

Why join?
Why not? Ultimate is genuinely fun and exciting! There are no referees involved in the game. Players resolve their own disputes. This concept of sportsmanship is call "Spirit of the Game." This is a great workout and many people don't even realize how much you run during the game burning all those calories. It's easy to pickup. It doesn't matter if you are new to the game. Just a few minutes of practice and you are good to go!
For information regarding Ultimate Frisbee, contact Dorian Cameron at (770) 528-8861.

FALL League 2018
Terrell Mill By-Laws

Schedule / Scores (final)

Standings (final)

Playoff Bracket

---
---