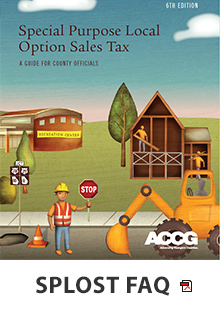 A Special Local Option Sales Tax (SPLOST) is an optional one percent county sales tax used to fund capital outlay projects proposed by the county government and participating qualified municipal governments. County and municipal governments may not use SPLOST proceeds for operating expenses or maintenance of a SPLOST project or any other county or municipal facility or service. Technically, the SPLOST is levied in what the law refers to as a special district comprising the entire territory of the county calling for the SPLOST.
The tax is imposed when the county board of commissioners or sole commissioner calls a local referendum (i.e., vote) in conformance with O.C.G.A. § 48-8-111 and the referendum is subsequently passed by the voters within that special district (i.e., county). The tax is collected on items subject to the state sales and use tax within the county, including the sale of motor fuels as defined in O.C.G.A. § 48-9-2. The SPLOST is also imposed on the sale of food and beverages, which are not subject to the state sales tax [O.C.G.A. § 48-8-3(57)(D)(i)].
Several factors determine the length of time that a SPLOST may be imposed. In general, the tax may be levied for up to five years. If the county and qualified municipalities enter into an intergovernmental agreement, the tax may be imposed for six years.
All O.C.G.A. references can be viewed at www.lexisnexis.com