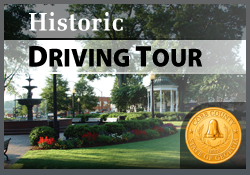 In Cobb County, there are 41 sites and 13 districts that are listed in the National Register and/or the Cobb Register. These include Zion Baptist Church, which dates back to 1866 and is the oldest black Baptist Church building in the county and "The General," the famed locomotive house in the Southern Museum of Civil War and Locomotive History in Kennesaw. Another of the county's historic sites is the Andrew J. Cheney-Newcomer House. This Greek Revival house was built around 1856 and survived the Civil War due to its use by Federal troops as a headquarters building.
The Cobb County Register of Historic Places lists thirteen sites and two districts. The Concord Covered Bridge Historic District contains four houses, a railroad trestle bridge and the ruins of the Concord Woolen Mill by Nickajack Creek.
The Historic Preservation Commission holds regular meetings open to the public on the second Monday of each month. The meetings are held at 6:00 pm at the Cobb County building located at 100 Cherokee Street in Marietta.