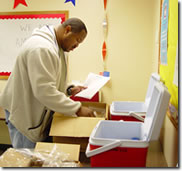 Meals on Wheels delivers to homebound seniors, 60 and older, who are unable to cook for themselves. Over 50,000 meals are served each year through Meals On Wheels. All meals meet USDA requirements and are prepared by a vendor under contract with Cobb County Government. Volunteers are needed to deliver hot, nutritious meals to homebound seniors Monday - Friday. A visit from a cheery volunteer can do wonders! For more information on becoming a volunteer, please call 770-528-5381.
Eligibility to receive Meals On Wheels
Clients must be Cobb County residents, age 60 or older, and must complete an assessment by calling 770-528-5364.
Adopt-A-Route
Your company, church, or organization can Adopt-A-Route and deliver a hot, nutritious meal to Seniors in your neighborhood! Call 770-528-5381 for details.
Make a secure online donation
to Meals on Wheels. Call (770) 528-5364 for details.
More information about Meals on Wheels and Cobb Senior Services is available at www.cobbseniors.org.