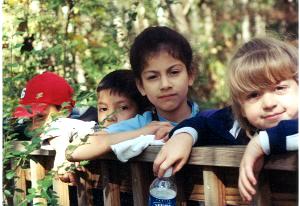 Education is a vital part of the Natural Resource Management Unit. Environmental/nature education and public awareness programs are imperative to the overall management strategies of the unit. School programs are designed to meet the Georgia Performance Standards and the standards set by the Cobb County School Board for Science curriculum. Elementary through high school and scout programs are offered with the goal to educate about the world around us, what lives there and the essential task of protecting that world.
School Programs
Nature education programs for pre-K to middle school grades are offered year round. Let our naturalists lead your class on a walk through the wetlands at Heritage Park and learn about the diverse ecosystems. Choose to visit the Wright Environmental Education Center, Cato Park or Stout Park to study the urban forest or invite us into your classroom to share one of our mobile programs such as our "habitat box" where children learn the basic needs of living and non-living things and the common needs between plants and animals. A variety of programs are available and all our programs meet the Georgia Performance Standards.

Our programs take a "hands on" approach and attempt to make the outdoor experience both fun and educational for the students. Preference is placed on field studies encouraging the students to visit our environmental education facilities or wetland trails. If dates are available, mobile programs may also be offered in the schools. Mobile programs are also offered in the schools. Students participating in the programs can expect to explore the outdoors via nature hikes focusing on the natural world around them. These hikes are accompanied by classroom activities to tie together all phases of the learning experience. Several learning curricula are used including Project Wet, Project Wild, Project Learning Tree and programs created by staff.

Call Kevin Hill at (770) 528-8829 to book your school today.



---

Outdoor Program Calendar
Silver Comet Trail
Heritage Park
Educational Programs
Wright Environmental Education Center
Cato Environmental Education Center
Stout Park
East Cobb Park
Corps Property
Hunting Information
Adopt-A-Trail