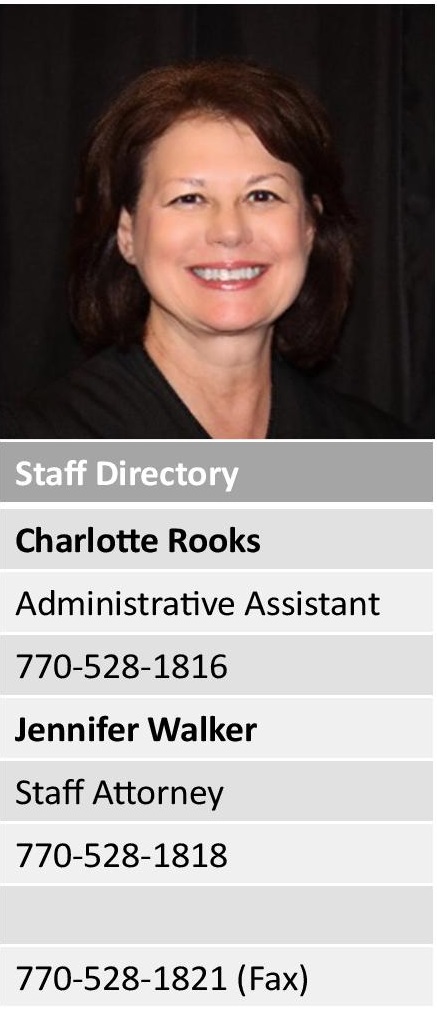 Judge Mary Staley Clark
Judge Staley Clark graduated cum laude with a Bachelor of Arts degree from the State University of West Georgia in 1975. She earned her Juris Doctor from the University of Georgia School of Law in 1978. After graduating from law school, Judge Staley Clark served as an Assistant District Attorney for the Cobb Judicial Circuit from 1978-1982. She was elected Magistrate Judge of Cobb County in 1982, and then elected State Court Judge, Division I in 1984. She was elected Judge of the Superior Court of Cobb County in 1992, and served as Chief Judge from 2005-2006. She is currently the presiding judge for the Cobb County Mental Health Court.
Judge Staley Clark is actively involved in many civic and professional organizations. She was selected to be a member of the 1996 Class of Leadership Georgia. She is co-author of Georgia Jurisprudence Family Law. She was the 2001 recipient of the Joseph T. Tuggle Professionalism Award, Family Law Section, State Bar of Georgia. She was recognized by the Cobb County Y.W.C.A as its 1994 Woman of Achievement. She was the 2014 recipient of the Cobb Schools Foundation Leaders & Legends Award. She was awarded the Cobb County Chamber of Commerce Distinguished Woman award in 2015. She served as president of the Kiwanis Club of Marietta 2014-2015. She served as president of the Council of Superior Court Judges 2014-2015. Judge Staley Clark is presently serving as an Executive Committee Member on the Council of Accountability Court Judges.