Work Requests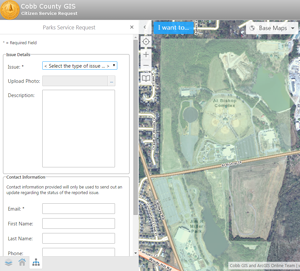 Residents now have a quick and easy way to submit requests for parks service or cable complaints using a computer, tablet or smartphone. Cobb County's Information Services GIS team developed the Citizen Reporting GIS mapping Web page. Residents can submit pictures with their parks service request, such as reporting a fallen tree covering a walking path or a damaged bench. Location based reporting is available when using a tablet or smartphone at the actual parks. This enables the resident to capture the precise location of the request.

People will be notified via email when their requests are received and again when they are resolved and the work orders are closed.

To submit a request, visit www.cobbgis.org:81/CitizenReport/.