Indoor Efficiency

Back to Water Efficiency Program
The average Cobb County Resident uses approximately 70 gallons of water per person every day in their home. According to the United States Environmental Protection Agency a water efficient home can reduce their per person water use to 45 gallons per day. There are simple ways to reduce indoor use and preserve our water resources.
Cobb County's Water Efficiency Program offers many programs to help you save water in your home including rebate programs, free low flow materials, water saving Tips and educational presentations.
In this virtual tour of a typical home, the user is given conservation tips as they move through the house.
---
What's Happening in Water Efficiency?

Fall Water Tips video
---
Home Water Works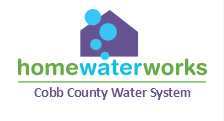 Cobb County is a member of the non-profit Alliance for Water Efficiency.
This virtual home tour is also a water use calculator providing tips to help save water and energy in your home.
---
H2O in HD 2015
The grand prize in this year's H2O in HD video contest went to a team of students from Kell High School, including John Perkins, Andrew Johnston, Demar Earnest, Nathaniel Bush, and Nicholas Brooks. The H2O in HD contest challenges Cobb County high school students to create entertaining and educational PSAs about the value of water and the importance of conservation. Click here to learn more about the contest or to view this year's entries.