Water Efficiency

Back to Programs
The history of drought in the Southeast region of the United States demonstrates the importance of conserving our water resources. Metro Atlanta faces some unique water resource challenges. It is located at the headwaters of its major river basins. This means we have the shallowest and smallest parts of these resources from which to draw our water. The granite bedrock beneath Cobb County means groundwater is not a viable supply for the region. Metro Atlanta and Cobb County remain dependent on surface water sources. Cobb County receives its water from the Chattahoochee River and Lake Allatoona.
Cobb County Water System has launched the Water Efficiency Program to assist customers with saving water and lowering water bills. There are programs and materials available through our Water Efficiency Program to help you as Cobb County strives toward the responsible management of this essential resource.
For information on Outdoor Watering and Restriction status, please click here.
---
Cobb County Water System Wins 2016 WaterSense® Partner of the Year Award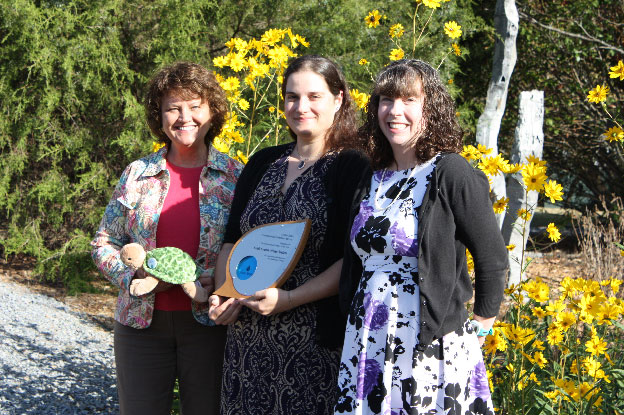 The U.S. Environmental Protection Agency (EPA) recognized Cobb County Water System with a 2016 WaterSense Partner of the Year Award as a leader in saving water for future generations. Cobb Water was honored at the WaterSmart Innovations Conference on October 6, 2016, in Las Vegas NV, for promoting water efficiency and WaterSense in 2015.
Since the program began in 2006, WaterSense labeled products have helped Americans save 1.5 trillion gallons of water and $32.6 billion in water and energy bills. In 2015 alone, WaterSense labeled products saved 437 billion gallons of water. By working together, WaterSense partners across the country continue to make a difference every day.
WaterSense recognizes four Sustained Excellence Award winners, seven WaterSense Partners of the Year, and nine Excellence Award winners for helping to advance and promote WaterSense and water efficiency throughout 2015.
Cobb County (Georgia) Water System, a five-time winner of the WaterSense Promotional Partner of the Year Award, maximized its water savings potential by actively participating in all 2015 WaterSense campaigns. Fix a Leak Week showcased the utility's biggest event, the third annual Water Drop Dash 5k and Water Festival. Coinciding with Shower Better Month, Cobb County partnered with The Home Depot during the WaterSense and ENERGY STAR® sales tax holiday Oct. 2 through 4, 2015, to rebate 42 toilets. This effort led to a 100 percent rise in rebates for WaterSense labeled products compared to Cobb County's average weekend rebated purchases in 2015.
In June 2015, Cobb County introduced Tappy the Turtle, its new mascot, who talks about the WaterSense program and other water-efficient activities on Facebook and Twitter. Tappy wears a "We're for Water" button and encourages residents to follow him and WaterSense messaging on his social media page. Education was also a focus during WaterSense's Sprinkler Spruce-Up campaign. Cobb County's "Ask an Expert" traveling display visited garden clubs, environmental fairs, and community events to educate customers about efficient watering practices.
Cobb County Water System took advantage of the WaterSense H2Otel Challenge in 2015 and worked with other WaterSense partners Green Plumbers USA and Niagara Conservation to install WaterSense labeled Stealth toilets at interested hotels. Summer efforts focused on outdoor water efficiency, and Cobb County promoted irrigation professionals certified by a WaterSense labeled program in its "What to Ask Your Irrigation Professional" handout. The utility also worked with the Water Research Foundation in 2015 on a drought cost-benefit analysis tool to research a new project on water use in multi-family buildings and water supply planning.
For more information about WaterSense, visit www.epa.gov.
---
Cobb County Water System is a USEPA WaterSense Promotional Partner
Cobb County Water System is a USEPA WaterSense Promotional Partner. WaterSense products are independently tested by a third party and proven to save 20% over conventional products. When upgrading your plumbing and irrigation equipment look for the WaterSense Label.