Water Rates & Calculator

Back to Customer Service
Cobb Water System customers are billed monthly for water and sewer fees. The water meter is read monthly to determine the consumption.
Up to a maximum of 10% of the Water System's revenue may be transferred to the County's General Fund. For further information please visit http://cobbcounty.org/transfer-faq
Rate Adjustment Effective September 1, 2018
On July 10, 2018, the Cobb County Board of Commissioners approved an adjustment to Water System rates that will go into effect on bills generated after September 1, 2018. The last Water System rate increase was January 2012. Since 2012, the cost of water purchased1 by the Water System has increased by more than 25 percent and other operating costs, such as power, chemicals, and solids disposal, have also increased substantially. A change to the rate structure in January 2015 added "In-City" rates for the customers we serve who live inside city limits to account for our not providing stormwater services to them. See the rate change comparison table below (Figure A).
At this time, our average residential customer utilizes about 4,700 gallons of water per month and is charged about $48.33 for water and sewer service. It should be noted that this is the lowest rate in the Atlanta Metro area, and it is substantially lower than most other large counties. For the average residential water and sewer customer, the rate adjustment will result in a monthly increase of $4.80. Even with the rate adjustment, our rates will remain the lowest in Metro Atlanta. Customers pay just over $1.00 for 100 gallons of water to be withdrawn from Allatoona Lake or the Chattahoochee River and purified, delivered to their homes, removed once used, treated to a very high standard, and returned to either Allatoona Lake or the Chattahoochee River cleaner than it was when originally withdrawn so it is available for further use and enjoyment. See the counties rate comparison chart below (Figure B).
A summary of the adjustments to residential commodity charges is listed below. For more detailed information on the rate structure effective September 1, 2018, please click here.

1Cobb County purchases drinking water from the Cobb County-Marietta Water Authority and distributes it to our retail customers.
(Figure A)
Water and Sewer Rates
IN-CITY RATES
Per thousand gallons
Effective 9/1/2018
UNINCORPORATED RATES
Per thousand gallons
Effective 9/1/2018
Single Family Residential
TIER 1: 1000-3,000
$3.04
$3.16
TIER 2: 4,000-15,000
$4.69
$4.87
TIER 3: 16,000-29,000
$5.84
$6.06
TIER 4: 30,000-49,000
$6.64
$6.90
TIER 5: 50,000 and above
$8.87
$9.21
Non-Residential
Non-Residential
$4.60
$4.78
Irrigation
$8.87
$9.21
Wastewater Fee
Sewer Fee
$5.82
$6.04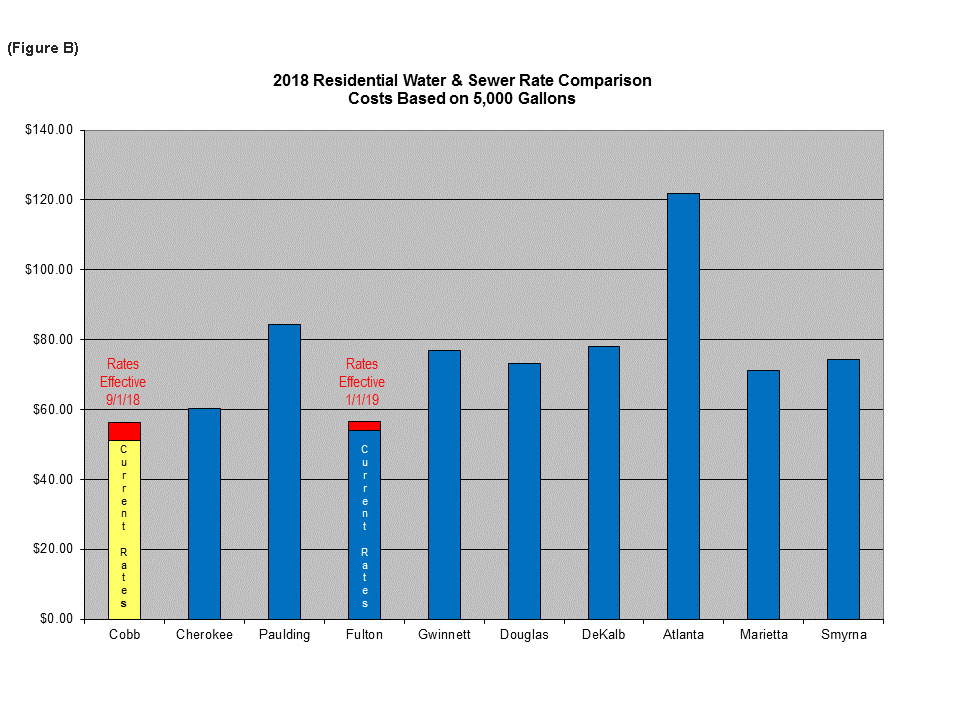 Disclaimer
While we provide this calculator to help our customers get an idea of how much they would incur on water bills based on the amount of water consumed, this calculator is formulated to calculate based on the standard 5/8 & 3/4 meter rate & base charge. It only gives an approximate result and should not be taken as the actual charge. Customers should call our Call Center at 770-419-6200 to get the exact charge on their accounts.


click here for the calculator