Sewer Projects

Back to Construction Projects
The basic framework of the County's wastewater collection and treatment system was put in place in the early 1970s as part of a comprehensive capital improvement program. Many of the major interceptor sewer lines, along with two new wastewater treatment plants and the expansion of an existing plant were constructed during that period. The availability of a countywide sewer infrastructure facilitated residential and commercial development and was a primary driver of growth in the County. Today, the system includes over 2,500 miles of sewer lines and four water reclamation facilities that provide a combined permitted wastewater treatment capacity of 112 million gallons per day.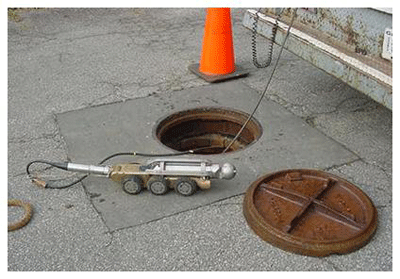 As is the case with all public works infrastructure, the County's sewer system requires continual attention to ensure that the components are maintained in an adequate operating condition. The Water System has an ongoing program for inspection of the existing sewer system to identify problems which need to be corrected and locations where upgrades are necessary. The primary procedure employed for inspection of these buried pipelines involves the use of closed-circuit television cameras mounted on specially designed wheeled carriages or sleds. The remotely operated camera assembly is driven or pulled through the sewer line and a video recording is made for subsequent detailed evaluation of the condition of the pipes.
Problems that are often encountered include broken pipes, offset pipe joints, root intrusion, improperly installed service connections, and other similar situations. Repair of these defects is needed to extend the life of the sewer line and to help prevent blockages which could lead to sewer overflows. Also, restoring the watertight integrity of the system will preclude groundwater from entering the pipe or sewage from leaking out.
When numerous defects are found in the same general area, a rehabilitation project is developed to address each problem with an appropriate corrective technique. Some problems, such as broken pipes, offset pipe joints, or defective service connections, are located at discrete points along the sewer line and require direct excavation to expose the pipe. These "point repairs" are the most common technique employed during a rehabilitation effort and may be located in the street or in front or back yards, depending on the location of the existing sewer line.
In some cases, the problems in a certain length of pipeline are so numerous that it is necessary to dig up the old pipe and install a completely new one. If the conditions warrant, and if technically feasible, it may be possible to use a "no-dig" replacement technique, which involves inserting a flexible liner inside the existing pipe. This liner is expanded using hot water or steam to fit snugly against the existing pipe walls and is hardened through a chemical reaction of a resin impregnated in the liner material. This is the least invasive way to repair sewer lines, but unfortunately all problems cannot be corrected by this method.
Since sewer rehabilitation activities are potentially disruptive to established neighborhoods and involve the use of specialized pre-approved products and unique construction techniques, only prequalified contractors with proven experience and expertise are utilized by the Water System for these projects. A separate contractor prequalification category has been established for two major aspects of sewer rehabilitation work – Cured-in-Place Pipe (CIPP) and Manhole Rehabilitation. Information and forms related to the prequalification process can be found on the Contractor Bid Information page of this site. Please click here to visit the Contractor Bid Information page.
The active sewer rehabilitation projects, along with other Water System construction projects, are shown on the "Current Project Map", which can be viewed by clicking here.