Stormwater Environmental Compliance
The Stormwater Environmental Compliance Section protects the health and beauty of Cobb County's creeks by monitoring impacts to the creeks due to excess stormwater runoff from urbanization, illicit discharges, lack of maintenance to stormwater structures, failed Best Management Practices (BMPs), and poor housekeeping on, around, or in stormwater facilities and the creeks they drain into.
Major Areas of Stormwater Environmental Compliance:

• Water Quality Compliance
• Commercial Stormwater Pond Compliance
---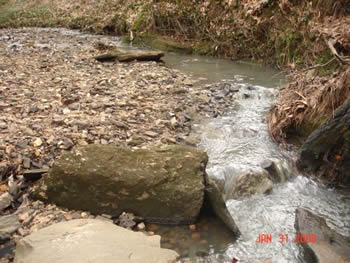 Water Quality Compliance Creek located off Heather Road in Smyrna. A sewer overflow was running straight into creek that resulted in large fecal results, discoloration and odor. Repair was done and creek now runs clear with normal fecal results.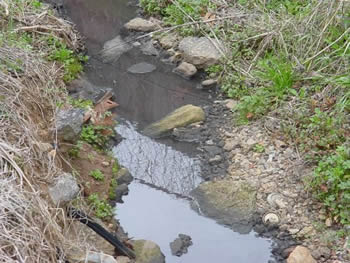 Previous location of Jordan Auto in Mableton. Carwash discharge into storm system. Water from carwashes carry dirt, grease, oil, brake dust, and other materials that are picked up from environments where the vehicles are driven. The wash was running into storm system and into nearest creek.
---
Commercial Stormwater Pond Compliance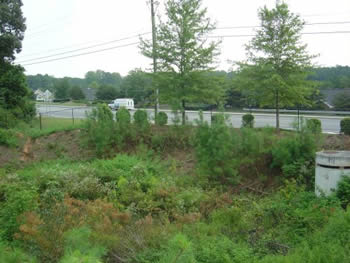 Detention pond with unwanted vegetation. Volume capcity could be impacted as well due to trees that are growing in the pond. To many trees and other unwanted vegetation do not allow for the wanted vegetation to grow correctly and can also cause erosion issues. Trees and other woody vegetation damage the structures in the pond if left unmaintained.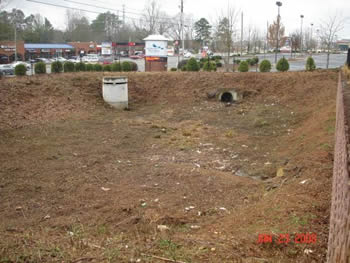 This is the detention pond above with unwanted vegetation removed. Waterflow is allowed to move through the pond as originally designed. Vegetation that should be in the pond (grasses) will grow and provide filtration of sediments and pollutants before water leaves the pond. The wanted vegetation will also stabilize the embankments and help prevent erosion occurring.