TAG Grinding Services
2150 County Services Parkway
Marietta, Georgia 30008

(678) 540-5001
solidwaste@cobbcounty.org


Operating Hours:
Mon - Fri: 7 a.m. - 5 p.m.
Sat: 8 a.m. - 4 p.m.
Sunday: CLOSED
County Holidays CLOSED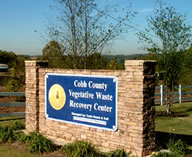 Yard debris such as grass clippings, limbs, bushes, or leaves should be taken to the TAG Grinding Services, Inc. vegetative waste recovery center located at 2150 County Services Pkwy.

TAG Grinding does charge for this service. For specific information concerning TAG's disposal rates or other information, please contact their office at (770) 896-3995.