---
---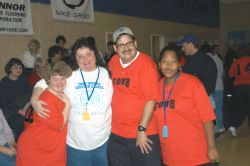 Contact Information:
Windy Hill Community Center
1885 Roswell St., SE
Smyrna, GA 30080
Office Hours:
9:00 am - 5:00 pm
Monday - Friday
Phone: (770) 528-2562
Fax: (770) 528-2568
Recreation Coordinator - Unit Manager: Clintina Mitchell
Clintina.Mitchell@cobbcounty.org
Phone: (770) 528-2562
---
Therapeutic Winter/Spring 2018 Programs and Events
Registration is in progress.
Download Winter/Spring 2018 brochure here


Therapeutic Summer/Fall 2018 Programs and Events
Registration begins May 15th
Download Summer/Fall 2018 brochure here
---
CCT Paratransit Information
For transit information, see the CCT Paratransit Services website.
---
The Therapeutic Recreation provides recreational & leisure educational opportunities for Mentally Challenged individuals. The goals are to increase socialization skills, community awareness, emotional and physical well being, and to learn new leisure skills through participation in structured recreation activities that are safe and fun.

Programs
Recreational programs are provided for participants in a variety of interest areas including recreational sports, dance, arts and crafts, day camps, travel, social club activities and special events.

Programs include:
Special Events (ages 16 and up)
Social Club Activities and Classes (ages 16 and up)
Camp Horizon Summer Camp (ages 7-21)
Ambassador's Day Program
Special Olympics (ages 8 and up)
A leisure assessment, medical information and Release and Hold Harmless Agreement (permission to provide emergency medical treatment) waiver are required prior to participation. Recreation opportunities are provided for participants in a variety of interest areas including recreational sports, dance, arts & crafts, day camps, travel, social club activities and special events. Most activities are offered at a minimal cost to the participant.
---
Ambassadors Day Program
This program will accommodate specific needs from 9:00am – 4:00pm, Tuesday through Thursday. There is an eligibility criteria for this program that requires an assessment before you can sign up for the program. The program is for mild to moderate intellectual disabled participants. The ratio will be 1-12 for mild and 1-8 for moderate. The participants will be divided into two groups depending on their skill levels. Participants will receive educational, recreation, and leisure activities. The fee will be $60 per week (T-Th) or $25 a day. We will be closed on all holidays. We also can give you information about the paratransit services program that Cobb Community Transit offers. If you are interested in obtaining information about this program please call (770) 528-2562.
---
Purpose of Program & Policies
To provide recreation and leisure educational opportunities for all special populations including but not limited to individuals with:
Developmental Disabilities * Learning Disabilities & Delays * Physical Disabilities * Hearing/Speech Impairments * Attention Deficit Disorder * Autism
Inclement Weather
If a program is canceled due to weather, the program will be made up at a later date or refunds issued.
Payment Policy
Full payment of program fees must be included with the registration form. No partial payments will be accepted. We now accept MasterCard & Visa. You may call in your registration and give your credit card information over the phone or walk-in with your credit card. Please do not write your credit card information on your registration form to mail in. There is a $25 fee on any checks returned unpaid by your bank.
Refund Policy
Refunds will be issued only if TRS has not incurred costs due to purchase of tickets, rentals, supplies, refreshments, deposits, etc. Requests for a refund must be made a minimum of 48 hours before the program. Participants will not receive a refund or credit for any missed special events, social club events or other programs. Social Clubs must be PAID IN FULL - no exceptions. Refunds will be processed at the end of the quarter.
Non-Resident Policy
A mandatory fee will be charged to all out-of-county residents participating in Cobb County 's TRS program. The out-of-county fee is $25 per registrant.
Extra fees
Participant Insurance (optional)
$6.30 per year for ages 18 and under.
$13.55 per year for ages 19 and older.
TRS Non-resident fee (if applicable) $25 per quarter
Volunteers
Cobb Therapeutic Recreation and Special Olympics GA-Cobb utilize many volunteers for their programs. Volunteers are needed to assist staff and instructors with the special needs participants in a variety of settings. Special Olympics GA-Cobb certifies volunteers, coaches and assistant coaches for many sports. Call Kevin, Ann or Kim for more information.
Transportation
When provided, will be from one of the following locations (please see specific program information):
CSP 1792 County Services Parkway , Marietta
RSBC Parking lot to right of Roswell St Baptist Church
CCC Cobb Civic Center, 548 S Marietta Parkway , Marietta
ADA Compliance
The Cobb County Board of Commissioners complies with the Americans With Disabilities Act of 1990 Public Law 101-336 (ADA), which prohibits discrimination on the basis of disability--requiring that no qualified individual with a disability shall on the basis of a disability, be denied the benefits of Cobb County Services, programs, activities, or employment with Cobb County .
If you have a specific physical or service accessibility need, please make the staff that work with the program / facility which you plan to use, aware of what you need so that we can reasonably accommodate you. Further information can be obtained from the Cobb County Government ADA Coordinator at (770) 528-2655 (Voice) or (770) 528-1103 (TDD). This notice is available in alternate format - audiotape, computer disk, large print, or Braille. To obtain the alternate format please call (770) 528-2655.
---
Therapeutic Services Staff

JC Redd
Manager
(770) 528-8453

Clintina Mitchell
Recreation Coordinator - Unit Manager
(770) 528-2679

Ann Bonds
Recreation Programmer
(770) 528-2570

Katelyn Fischer
Recreation Specialist
(770) 528-2569

Kimberly Battiste
Special Olympics Georgia-Cobb
(770) 528-2583