Special Olympics

Serving People With Special Needs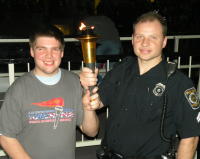 Special Olympics is an international sports program for athletes ages 8 and up with the developmental disabilities. Special Olympics is a year around program that offers 23 different sports opportunities that includes track and field, basketball, bowling, golf, swimming, tennis, volleyball, equestrian, table tennis, gymnastics, ice skating, roller skating, alpine skiing, bocce and power lifting.

To participate, call (770) 528-2583 and request a registration packet or download here. When your registration is complete, you will be contacted from the coach of your selected sport.
---
---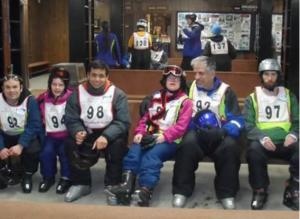 Look at this group of Special Olympics GA-Cobb ski athletes!
They are ready for Boone, NC!
---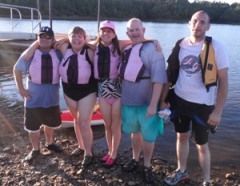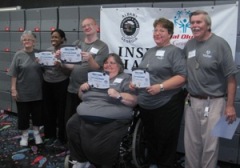 ---

SPECIAL OLYMPICS GA-Cobb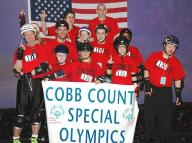 Special Olympics is a year round program of training and competition for children (ages 8 & up) and adults with special needs. Participants receive opportunities to increase physical fitness, demonstrate courage, and develop friendships with other Special Olympics athletes and the community. Special Olympics offers a variety of athletic opportunities including bowling, gymnastics, ice skating, basketball, alpine skiing golf and tennis to name a few. Athletes practice/train for at least 8 weeks before state level competitions. Please note the time of year during which your sport is held, and expect to be contacted by your coach. If you do not hear from your coach 8 —10 weeks prior to each listed State Games Competition, please contact our office. Additionally, Cobb County is looking for athletes interested in Unified Sports. Unified Sports are programs that pair a special athlete with a corporate athlete or community athlete for training and competition.

ELIGIBILITY
In Special Olympics, you must be at least 8 years of age and be diagnosed by an agency or professional with one of the fol­ lowing conditions: intellectual disabilities, cognitive delays as measured by formal assessment, or significant learning or vocation challenges due to cognitive delays that require or have required specially designed instructions.

HOW DO YOU GET TO PARTICIPATE?
Contact the office to request a registration packet. Each athlete must complete the following: a physi­ cal exam by a licensed examiner, a Special Olympics medical form "application for participation form", Behavior Code of Conduct Policy, release form, and the sports selection/yearly registration form. Complete all forms and make sure the appro­ priate person(s) sign the forms. When this packet is completed and returned to our office, you will receive a call from the coach of your selected sport. He/she will give you information regarding training, practice dates, and more. Please retain a copy of the medical form for your records.

COBB COUNTY TRAINING PROGRAMS

Cobb County offers a number of programs in which athletes receive coaching and training in certain sports specifically for competition in Special Olympic meets. Interested in coaching, volunteering or serving on the Special Olympic Management Team? We need your support! Special Olympics GA-Cobb needs caring individuals who are able to donate their time during sports practices as well as during various Local, Area and State Competitions. There are many volunteer opportunities available throughout the year. If you or someone you know is interested, please contact Ann Bonds or Kim Battiste at the number listed below for more information.

WE NEED YOUR HELP
As most of you know our Special Olympics program is funded solely by contributions and funds we raise. There is no budget for our athletes' uniforms, equipment, meals while traveling or charter buses to transport us to the many varied competitions we attend every year. With this in mind, please consider becom­ ing one of our individual, civic or corporate financial supporters. Whether you know someone who participates in the program or not, it is easy to make a tax deductible contribution. There are many businesses and organizations that have money allotted for charitable contributions, but are not aware of our need. Dona­tions of any size would be greatly appreciated, and all donations go directly into Cobb County 's Special Olympics program.
Contact Kim Battiste for more information.
(770) 819-3261 Kimberly.battiste@cobbcounty.org

ATTENTION ALL coaches, volunteer, & unified partners 18 and older must complete the Protective Behavior Training Quiz on line at:
www.specialolympicsga.org

Please note: ALL Special Olympics sports now require certification from Special Olympics International. Training is provided throughout the year at various locations around the state. Please call our office to find out when and where a clinic is offered for you sport.

SOGA-Cobb
Local Management Team
Joe Bridgers - Team Chairperson
Norma Jo Bales – Recording Secretary
Judi O' Connor – Finance Chairperson
Emily Thoreson Competition Chairperson
Nancy Futral – Family Chairperson
Kim Watson – Fundraising Chairperson
Michelle Pratt - Athlete Representative
Evan Hodge - Athlete Representative
Barry Griffith - Volunteer Chairperson

Management Team Meetings
3rd Monday of each month 7:00 p.m.
at Parks, Recreation and Cultural Affairs Administrative Office
1792 County Services Parkway
Marietta , GA 30008
---

Forms:
2017 Medical Form

Clintina Mitchell
Local Coordinator
Special Olympics Georgia-Cobb
(770) 528-2679

Kimberly Battiste
SE Regional Tennis, Summer Games and Masters Bowling and Equestrian,
Indoor Winter Games, SE Alpine Skiing, Coke Classic, Fall Games
Special Olympics Georgia-Cobb
(770) 528-2583