Fair Oaks Tennis Center
1460 West Booth Road Ext. SW
Marietta, GA 30008
(770) 528-8480

Facility Manager: Wayne Miller
wayne.miller@cobbcounty.org

Assistant Manager: TJ Jackson

Instructional Staff
Andre Squires
Danny Carlson
Ted Nurse
Hours of Operation
Mon.-Fri. 9:00am-9:00pm
Saturday 8:30am-5:00pm
Sunday 12:00pm-5:00pm
Fair Oaks Tennis Center was Cobb County's first public tennis center opening in 1974. Fair Oaks has 12 lighted hard courts and a pro-shop building. Located in Central Cobb, Fair Oaks is convenient to everyone in Cobb and is a popular location for tournaments, leagues and round robin socials. The configuration of the 12 courts surrounding the pro-shop make Fair Oaks the ideal location for watching tennis - whether it is your league match or tournament competition.

Satellite tennis courts:
Larry Bell Park (at the Cobb Civic Center) (4 courts)
Rhyne Park (4 courts)
Nickajack Park (4 courts)
Contact Fair Oaks Tennis Center for information regarding these satellite park locations.
---
---
---
Fall Tennis Classes
Registration begins August 1
Classes begin the weeks of September 10 and October 29
Online registration available for tennis classes.
Classes meet 1 hour per week (1/2 hour for tots classes) for 6 weeks.
Cost: $72 ($108 for non-residents)
Tots Classes: $36 ($54 for non-residents)
Download class schedule here
---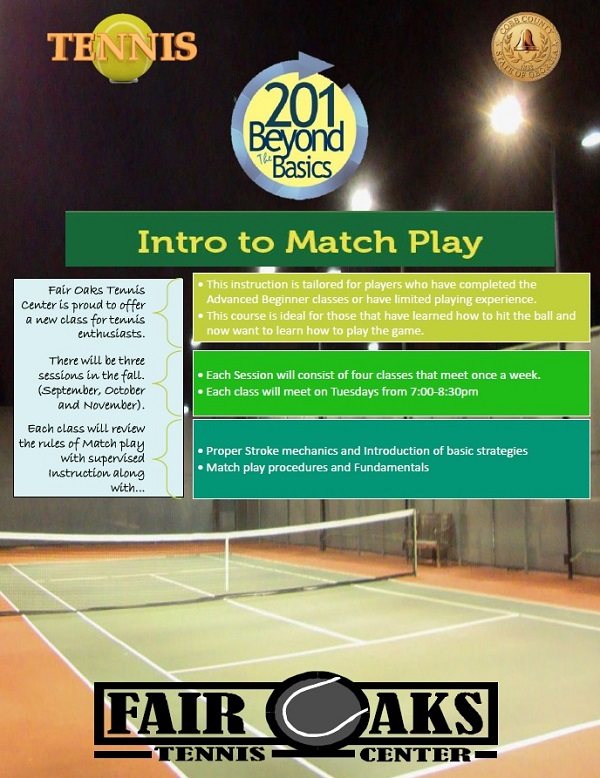 ___________________________________________________________________________

Players looking to join an ALTA or USTA team can fill out a general information form (link below) to be placed on a contact list. Teams are formed every season.
Looking for a Team Form
---
---
Junior Tennis Programs at Fair Oaks Tennis Center

Tennis Classes - We currently have in place the beginner and advanced beginner tennis classes. The beginner classes are offered on Monday evening or Saturday morning. The advanced beginner classes are offered on Wednesday and at Rhyne Park in Smyrna on Tuesday nights. This is a year round program. The cost of each six week session is $48.

Future Stars – Pre League Academy - Starting in May the 'Future Stars – Pre League Academy' will begin. This is a year around academy that meets once a week for one and one-half hours each week. This program is designed for the player that has completed the advanced beginner classes and wants to begin playing competitive tennis. The focus of this program is to get the players ready to play on junior ALTA or USTA league teams. We want to have enough kids ready for league play by the fall ALTA season to form teams at all age groups. The cost is $65 per six week session.

ATI-Tennis Academy - Fair Oaks Tennis Center hosts the 'ATI-Tennis Academy' under the direction of Danny Carlson. ATI has a long history of producing world, national, sectional and state ranked junior players. Over 50 of ATI's participants have received scholarships to NCAA Division 1 schools. Many more have played on scholarship at Div II, Div III and NAIA schools Five of ATI's alumni have earned ATP or WTA world rankings between 50 and 500.

Summer Tennis Camps - Fair Oaks Tennis Center will hold five weekly tennis camps during the summer. Each camp will offer three levels. The critter camp is for ages 4–5. These camps meet Tues – Thur from 8:30–9:45am. The cost is $22 per camp. The mini camp is for ages 6–10 and will meet from 9:30–11:30am Mon – Thur each week. The cost of the mini-camp is $55 per camp. The full camp is for ages 8 – 15 and will meet Mon – Thur from 8:30am– 12:00pm. The cost of the full camp is $95 per camp.

There will be three junior camps offered at Rhyne Park this summer. The dates have not been confirmed at this time, there should be one in June and two offered in July. The format of the camps at Rhyne will be the same as the Fair Oaks camps.

Adult Tennis Programs at Fair Oaks Tennis Center
Tennis Classes - Adult beginner classes are held on Monday evenings. The advanced beginner classes meet on Wednesday evening. The beginner and advanced beginner classes are held in sessions that meet once a week for six weeks Seven sessions of classes are offered during the year. The cost of each six week session is $72.

There is an adult doubles class offered on Tuesday evening. This class is for the adult that has begun to play competitively and wants to drill on the fundamental doubles shots and learn doubles strategy. Classes meet weekly for one and one-hours each week for six weeks. The cost is $65 per six week session.

Adult Drill Session - for all levels is offered on Saturday afternoons. This class is for the player that wants to hit a lot of balls and get tips on fine tuning their strokes and strategy from pros that are recognized as competitive tournament players. The cost is $15 per weekly class.

Teams - are forming now for the summer adult leagues. If anyone is interested in playing on a team we will be happy to put you in touch with a captain of one of the current teams or help anyone that would like to form a new team. We plan on forming a men's and woman's beginning team for the fall ALTA season.

Senior Round Robins - There is a senior round robin that meets every Tuesday morning at 9:00 am. The cost to play is $2.00 per person.

For more information about any program offered at Fair Oaks Tennis Center call (770) 528-8480.
---
---
League Forms Available for Download
Court Reservation Form - use this form to request a site as your courts for your league team for the upcoming season.

Rules and Regulations - rules and policies for all teams participating at a Cobb County park tennis facility. All team members are required to be aware and abide by the rules.

Team Practice Request Form - for teams requesting a regular weekly time for team practice. Fees must be paid when submitting the form. Check with facility manager for availability.

Team Practice Request Form (winter season only) - same as above, but for December, January and February only.