Harrison Tennis Center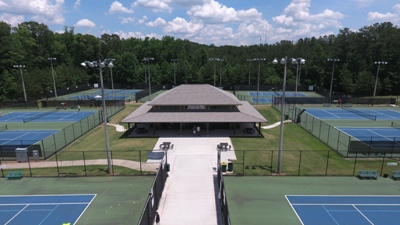 2653 Shallowford Road NE
Marietta, GA 30066
(770) 591-3151

Facility Manager Steve Lottinger
stephen.lottinger@cobbcounty.org

Assistant Manager
Tug Hale
Instructional Staff
Stephen Diaz
Pete Snyder
Jonathan Lockeretz
Randy Hancock
Rick Rasmussen

Harrison Tennis Center is Cobb County's largest public facility and one of the busiest tennis centers in the Atlanta area. Harrison has 16 lighted hard courts, six 36' QuickStart mini courts and a pro-shop building. Located in northeast Cobb, Harrison is the home for more ALTA and USTA teams than any facility in Georgia. Harrison hosts numerous tournaments, including national championships and state championships.

Harrison Tennis Center
Awarded 'Member Organization of the Year' for 2010 by the USTA-Georgia
Awarded 'QuickStart Facility of the Year' for 2009 by USTA-Southern
Awarded 'QuickStart Award' for 2008 by USTA-Southern
Awarded 'Member Organization of the Year' for 2007 by the USTA-Georgia
Awarded 'Outstanding Tennis Facility for 2004' by the USTA
Awarded 'USA Tennis Facility of the Year' for the USTA-Southern in 2004
Awarded 'Member Organization of the Year' for 2003 by the USTA-Georgia
Satellite Tennis Courts:
Sweat Mountain Park (4 courts)
Contact Harrison Tennis Center for information regarding this satellite park location.
---
---
---
Fall Tennis Classes
Registration is currently in progress
Classes begin the weeks of September 10 and October 29
Online registration available for tennis classes.
Classes meet 1 hour per week (1/2 hour for tots classes) for 6 weeks.
Cost: $72 ($108 for non-residents)
Tots Classes: $36 ($54 for non-residents)
Download class schedule here

Looking for a Team?
Players looking to join an ALTA or USTA team can fill out a general information form (link below) to be placed on a contact list. Teams are formed every season.
Looking for a Team Form

Junior USTA League Play for Winter 2019 Season
Tennis Instruction Information

JUNIOR DEVELOPMENT PROGRAMS
Year-round instruction for the developing player.
Level I - Future Stars
Offered to players who have completed at least (1) 6-week session of Advanced- Beginner classes
Continued stroke development, emphasizing ball control and consistency; introduction to spin
Entry into program based on evaluation conducted by HTC staff coaches
Monday 3:30-5:00pm - 7-8 yrs (currently not in session)
Tuesday 5:30-7:00pm - 12+ yrs
Wednesday 5:30-7:00pm - 11-12 yrs
Thursday 4 pm - 5:30pm - 9-10 yrs

Level II - Baseliners
The next progression offered for HTC's advancing players
Players exhibit improved ball control, directional control, use of appropriate grips and spin
Supplemental activities include ALTA, USTA, school teams
Entry into program based on skill proficiency - evaluation if necessary
Monday 5:00pm - 6:30pm - 13+ yrs
Thursday 5:30-7pm - HS age (currently not in session)

* Please contact the HTC office staff for additional information

Download Baseliner registration form here

Stephen Diaz Junior Tennis Academy - Harrison Tennis Center is the home base for the Stephen Diaz Junior Tennis Academy. Stephen has been one of the top junior development coaches in Atlanta for many years and Harrison is very proud to have him and SDTA on board. SDTA's coaching philosophy is based on putting the athlete first, while putting major emphasis on performance rather than outcome. Coaches focus on helping young players reach their maximum potential as people through a commitment to excellence in tennis. SDTA considers the long-term welfare and happiness of players should be valued more than the results of rewards of the moment. Founded in 1996, SDTA's emphasis on small group programs and personal attention has helped develop some of the best junior players in the region. One of our main goals as SDTA coaches is to personalize the development of players based on their talent and individual needs. We focus on teaching students how to develop an all-round game and help them understand all the different aspects of tennis in order to become a complete player.

At SDTA, training hard and training smart is what they all about. In order to maximize each player's potential, SDTA focuses on the following:
Fundamentals of technique
Singles & doubles strategy
Physical conditioning & mental toughness
Supervised match play
Tournament warm-up & coaching
Our low coach-to-student ratio, affordable program, and strong relationships with both students and parents are what make SDTA unique among tennis academies. If you would like to get more information on SDTA contact Stephen Diaz at Harrison Tennis Center (770-591-3151)

ADULT DRILLS

Adult Drills - Adult rapid fire drills are offered by USPTR certified pro Pete Snyder. Drills are open to both men and women of all ability levels (levels separated on different courts). The objective is to get the maximum repetitions you can is the 90 minute session via a variety of drills that allow you to work on all facets of your game. To reserve a spot please call Harrison TC at (770) 591-3151 or email Pete directly at pete@snydertennis.com.

Drills are:
Mondays 9:30 - 11:00am
Mondays 7:30 - 9:00pm
Tuesdays 7:30 - 9:00pm
Wednesdays 9:30 - 11:00am
Wednesdays 7:30 - 9:00pm
Thursdays 6:00 - 7:30pm
Saturdays 9:30 - 11:00am

Cost is $18.00 OR $65.00 prepaid for 4 sessions.
---

Round Robins
Senior Round Robins
Come join the fastest growing group at Harrison Tennis Center! For seniors fifty and older, this group meets every Monday, Wednesday, and Friday at 9:00am. The fee is $5.00 and Harrison supplies the balls. No registration is required. Just show up and enjoy the fun!!!
League Forms Available for Download

Court Reservation Form - use this form to request a site as your courts for your league team for the upcoming season.

Rules and Regulations - rules and policies for all teams participating at a Cobb County park tennis facility. All team members are required to be aware and abide by the rules.

Team practice reservation form