The Art Station - Big Shanty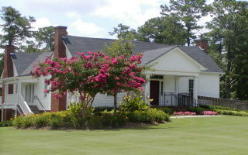 2050 Kennesaw Due West Road
Kennesaw, GA 30152

Phone: (770) 514-5930
Fax: (770) 514-5933

Facility Manager: Vanita Keswani
Vanita.Keswai@cobbcounty.org
The Art Station - Big Shanty is open Tuesday - Friday 10:00am - 5:00pm
Call for evening and weekend hours (770) 514-5930


The Art Station - Big Shanty website

---
Follow us on social media!
---
Fall Class Registation:
currently in progress

Use this link for spring registration:


---


The Art Station - Big Shanty was built as a summer home for the Rooker family and eventually became their permanent home. Originally located where Kennesaw Mountain High School now stands, the house was moved and (over a two year period) transformed into the arts center we have today.

With two multi-media classrooms, a pottery studio, meeting space and a gallery, this creative facility is a cozy-yet-productive part of the Cobb County Parks, Recreation, and Cultural Affairs Department. Programming includes classes and workshops in visual and literary arts during Fall, Winter, and Spring quarters; visual, dance and theater camps for children during the Summer quarter; and exhibitions and meeting space for arts-related activities year-round.

Both of our front and back galleries feature rotating art exhibits with a variety of media. Local artists, schools, and arts groups are all welcome to display their work.

The Art Station also does a lot of community outreach, with "Art for All" activities available for libraries, Scout troops, and local schools.
---

Hours for The Art Station
The Art Station is open Tuesday – Friday 10:00am to 5:00pm, with some evening and weekend hours. Please note that we are closed on Mondays and Sundays. Check out our website www.artstationcobb.org for the most up to date office hours and program info.

---

Gallery hours are Tuesday - Friday 10:00am - 5:00pm. Call for evening and weekend hours.
---