Mountain View Aquatic Center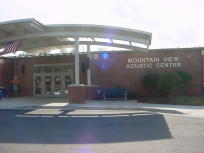 2650 Gordy Parkway
Marietta, GA 30066
(770) 509-4925

Facility Manager: Eric Robinson
Eric.Robinson@cobbcounty.org

Facility Programmer: Andrea Helm
Andrea.Helm@cobbcounty.org

Amenities:
Two pools and one meeting room.
1) A Competition Pool that is 50 meters by 25 yards with 21 lanes that are 25 yards in length during short course and 10 lanes that are 50 meters in length during long course.
2) An instructional pool that is 25 yards by 15 yards.
3) A small meeting room that holds about 15-20 people.
PATTI WILDER SWIM MEET (GRPA State Qualifying Swim Meet)
---
---
---
To apply for a job as a Lifeguard or Swim Instructor - Click here
---
Mountain View Aquatic Center Swim Lessons
Winter Swim Lesson Registration will begin on January 4th, 2019 at 5:00pm
The Winter Swim Lesson Schedule will be posted in early December 2018.
Private Swim Lessons are available - Please contact the facility for more information
Download Private Swim Lesson information form
---
Mountain View Aquatic Center
Year-Round USA Swim teams contact information
---
American Red Cross Lifeguard Training Classes
Mountain View Aquatic Center offers a program to train participants to be safe and effective professional lifeguards.
DOWNLOAD THE LIFEGUARD TRAINING FLYER HERE

Are you a currently certified Lifeguard in need of Re-Certifying? We offer Re-Certification classes as well!
DOWNLOAD THE RE-CERTIFICATION FLYER HERE
For more information, call 770-509-4925.
---
AQUA-AEROBICS AT MOUNTAIN VIEW
Download the Info Flyer
Are you looking for a fun way to get into shape, while using the qualities of water? Buoyancy enables one to do aerobic exercise with minimum strain. The resistance of the water helps tone muscles and quickly build endurance. Movement of the joints is greatly improved in the water, making aqua-aerobics an excellent program for those with arthritis, back problems or other medical conditions.
Aerobics: Deep water workout—Enjoy a deep water workout that has no impact on the joints, yet high intensity to burn calories...very cardiovascular...add a little body sculpting and you have a total body workout. Shallow water workout— Low impact, mid to high intensity to get the blood flowing. A good aerobic workout with muscle toning.

Arthritis: Work your joints from head to toe in this virtual non-aerobic workout.
Adaptive Aquatics: Working your joints with light aerobics add. Those with M. S. & Arthritis welcomed. We will emphasize range of motion, endurance, balance & fun. All instructors are certified.

If you are Prenatal or have any exercise limiting conditions make sure you have clearance by your physician before participating in class.

Aerobics (Shallow Water)
Mon, Wed, & Fri 8:00am-8:55am
Tues. & Thurs. 8:00am-8:55am
Tues.& Thurs. 10:00am-10:55am
Monday-Friday 6:00pm-6:55pm

Aerobics (Deep Water)
Monday-Friday 9:00am-9:55am

Arthritis
Mon, Wed, Fri 10:00am-10:55am

Adaptive Aquatics & Arthritis
Mon, Wed, Fri 11:00am-11:55am
Adults
$4.50 Per Class
Ten Visit Pass $45.00
Seniors
$2.00 Per Class
Ten Visit Pass $20.00
Mountain View Aquatics reserves the right to limit the number of patrons participating in each class.
No participants will be allowed to join a class 10 minutes past the class start time.
---
**This time is shared between adults who wish to swim in the warm pool, health therapy programs and private and group swim lessons.
Please Note:
Children under 16 must be accompanied by an adult in the same lane as their child.
Children under 12 must be accompanied by an adult at all times in the facility.
The Aquatic Center reserves the right to change these hours with two weeks notice.
Ask the front desk or call (770) 509-4925 for schedule change information.
Please check periodically for pool closings.
Cobb County Aquatic Center Swim Wear Policy
Mountain View Closing Dates
Please note the changes to the Mountain View Aquatic Center schedule on the following dates:
Closed on Sundays