Big Shanty Park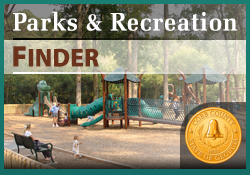 2050 Kennesaw Due West Road
Kennesaw 30152
(770) 528-8890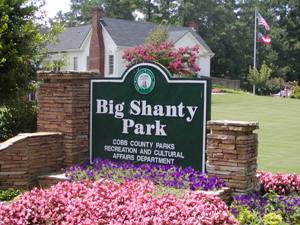 4 baseball fields
(with concession and pressbox)
2 soccer fields
4 tennis courts
The Art Station - Big Shanty


Youth Soccer
Youth Baseball
Arts Program
Tennis
Big Shanty Park, located in north west Cobb County, is just minutes from Downtown Kennesaw and the Town Center Mall area. The park offers baseball fields with concessions and pressbox, soccer fields and tennis courts. It is also home to The Art Station—Big Shanty cultural arts center and neighbors with Kennesaw Mountain High School. There are no pavilions at Big Shanty Park.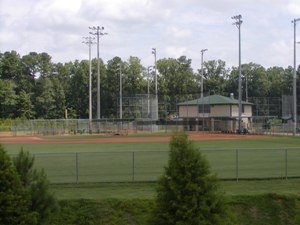 Facilities of the park such as ball fields and ball courts may be reserved. There are rental fees for these facilities and online reservation requests are not available. Please contact us at (770) 528-8896 for information regarding rental of these facilities. Tennis courts are not reservable. Unreserved facilities are available on a first-come, first-served basis and do not entitle you to exclusive use of that facility. Alcohol is prohibited in all Cobb County parks. Programs offered at Big Shanty Park include Youth Soccer and Youth Baseball. Contact us at (770) 528-8896 for information about these programs.

For information about the cultural arts programs offered at The Art Station—Big Shanty visit their website at www.artstationcobb.org or
phone them at (770) 514-5930.