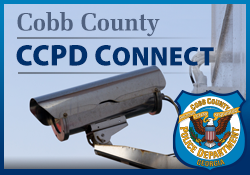 The Cobb County Police Camera Registration program is a police/community video partnership that operates on a voluntary basis with homeowners, neighborhoods and business owners who own private video surveillance systems. We encourage both businesses and residents to register their cameras online by completing the form below.
This program is intended to let our officers know where cameras are active in the county in case a crime occurs. It is not intended for active surveillance, and officers will not have direct access to homeowners' cameras. Those who register a camera will be contacted if a crime occurs in the vicinity of that camera.
Information provided by residents and businesses will be maintained in a secure database.
The Community Making a Difference
This community police partnership was illustrated recently after a string of exceptionally troubling armed robberies occurred in Cobb County. The suspect was very active and becoming more brazen with each attack, commonly targeting females with young children. After one armed robbery in which the offender pressed a handgun into the abdomen of a mother with her toddler, Offices and Detectives canvassed the area for any clues. They located a privately-owned camera system which had one camera pointed toward the roadway. Although the citizen who owned the video system did not intentionally point the camera towards the roadway and although he was not one of the victims in the series of crimes, his camera helped to stop the violence. In one of the videos, a vehicle was seen leaving the area directly after the armed robbery. Noted in the video was a small but distinct sticker on the rear of the car. With some work, the make and model of the car were able to be obtained. Our crime analyst identified around 300 cars of this make and model in the vicinity of the crimes and eventually was able to develop one as a prime suspect vehicle. Surveillance was conducted on this vehicle, and officers noticed the same unique sticker on the suspect vehicle as had been seen in the citizen's video footage. While conducting surveillance on the suspect, he was arrested. He was found to be in possession of a handgun, had property stolen in other armed robberies, and was in the process of committing more armed robberies at the time he was captured. The crime spree was stopped due, in large part, to one citizen's video system and his willingness to partner with the Cobb County Police.
We encourage homeowners, HOA's, businesses, and business communities to partner with the Cobb County Police Department in our efforts to make Cobb County a safer community in which to live, work, and play. Registration may be done online in just a few minutes by clicking here.
We hope that the tips above will assist you in strategically designing your video system to protect you, your family, and your neighbors. I want to thank you again for registering your camera with CCPD Connect. We are grateful that you took the time to do so. If you need any assistance in developing an effective security camera plan, the staff at the Cobb County Police Department stands ready and willing to help. Contact your local Precinct Commander or our Community Affairs Unit here
Also remember to sign up or follow the Cobb County Police Department: